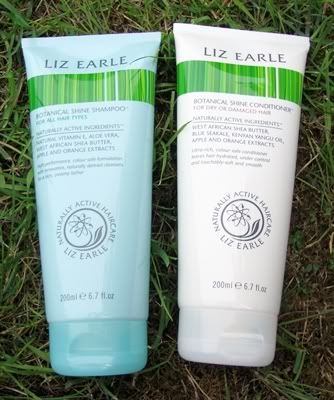 This is the fourth in the series of natural
shampoo and conditioner brands that I have tried and it is also an extremely
newly released product. Liz Earle have just launched their range
which includes one shampoo for all hair types (you just use more or less
product depending what your hair type is) and three corresponding conditioners.
Think of the shampoo as cleanse and polish for the hair if you will,
as it is a suits all product. The three conditioners are for oily,
normal or dry. I presume coloured hair or curly hair would pick the
dry version for added moisture.
As with most natural shampoos the directions
say to lather up in your hands first, I don't honestly know why? I
sometimes do as they suggest and sometimes just slap it directly on my
hair, I've never noticed a difference personally as I have such fine hair.
Then again I have no idea why people are obsessed with the lather
that shampoos give, I hate lather and a product does not have to foam to
be cleaning you but that is the reason that this line was a long time in
the making as Liz wanted to find a natural foaming product as she understood
that foam is what people have come to expect from a shampoo. After shampooing
I condition with the botanical shine conditioner for dry and damaged hair
which I massage into my hair, roots and all and then leave for 2-3 minutes
while I use shower gel or exfoliate etc. then I rinse off.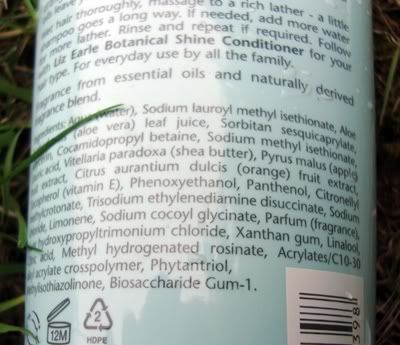 Packaging – Nice big squeezy tubes are
easy to use in the shower and a good amount of product comes out but not
too much. LOVE that the shampoo and conditioner are different colours,
if you are short sighted in the shower these things help, cos if you are
blind as a bat this is the only thing that stops you suing them round the
wrong way.
Consistency – the shampoo is almost like
a regular type shampoo but a bit more jelly-like the conditioner is not
too thick but enough to stay in your hair without dripping down your back
if you leave it on for a few minutes.
Price at £7.50 for a large bottle which
should last a month I would say I think this is good value for money, bet
then I personally buy myself quite a lot of overpriced tat. Still I don't
think this is a over inflated price, and is cheaper than a lot of 'natural' hair
brands.
Results – this impressed me, more than
even the cleanse and polish actually as natural brands often leave your
hair a little dull and tangly but the shampoo which smells deliciously
like jelly tots cleans and smooths hair, once you rinse it off it doesn't
feel squeaky dry or tangled and the conditioner massages in easily. Once
my hair was dry it was left shiny and smooth and smelling delicious. Not
one tiny tangle was to be seen.
Repurchase – yes. I am going to buy some
for my mum as well, she loves Liz Earle too so I know she will at least
us it unlike if I bought her another brand which was silicone free.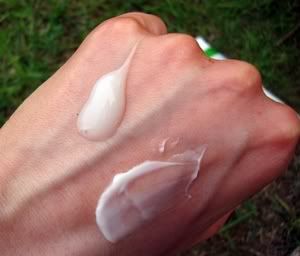 Overall I have to say that this is the
best natural SLS and Silicone Free range I have tried and my hair likes
it the best.
All products in this range are free from
SLS, SLES and instead the foaming agent is a derivative of coconut. Other
key ingredients are vitamin e, shea butter, apple and citrus extracts.
The range launched on www.lizearle.com
on 2nd September along with the London and Isle of Wight freestanding
shops. From 6th September the products will also be available at
John Lewis nationwide.
Large bottles are £7.50 for 200ml.
There will also be travel-size bottles for £4 each.
What do you think about this new haircare range?