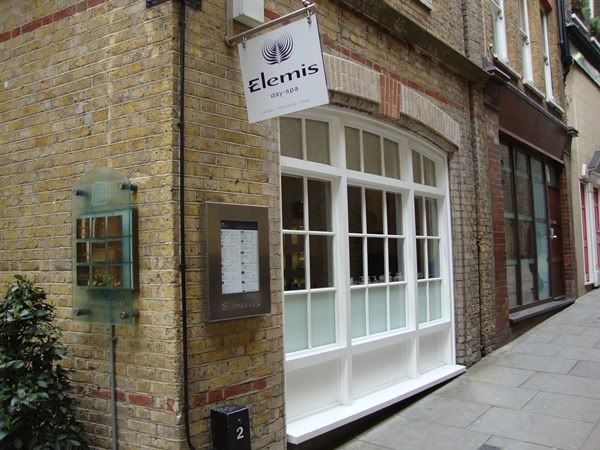 Now I love spas, and I love Elemis products so when I was invited to sample a treatment at the day spa I was rather gobsmacked. Another favourite of mine is checking out spas on the good spa guide website goodspaguide because I think if you are spending that much money on yourself or for a gift then you NEED to check it out beforehand. Instead of 5 starts the spas are rated out of 5 bubbles. And Elemis gets 4 bubbles…pretty good huh?
First impressions?
If you have ever been to Hush, Mews of Mayfair or Jo Malone just off Bond Street you will find this easily, if you're not from London then it's pretty tucked out of the way so ask for directions. It's a great location for a spa as it's central but not in amongst the hustle and bustle of the shopping streets.
Welcome and reception area
I was welcomed by a friendly receiptionist who offered to take my bag so I didn't have to lug it about, and offered a choice of water, herbal tea or a smoothie, which I thought was nice as often spas just offer you water. I was sat in a lovely relaxing area with velvet sofas, candles and soft music where I was given a form to fill in with allergies, skin type etc. My only thought on this was that the spa caters for men as well, but they have the same form (the man next to me was giggling at the 'skincare issues' part and saying 'ooh yes my cellulite is the bane of my life')! I guess men have a different set of skincare worries so a different form might be useful?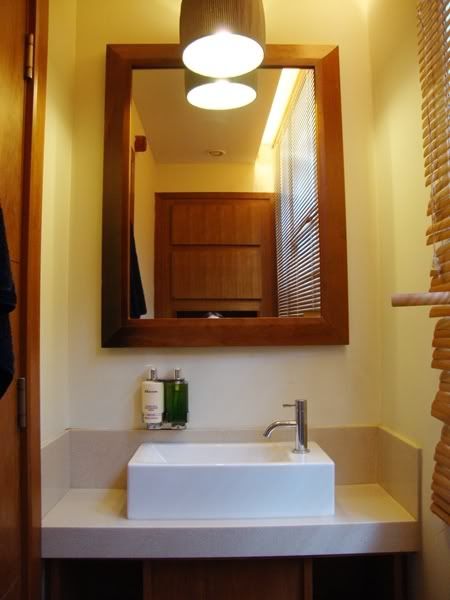 Come On You Know You All Check Out The Loo…EVERYONE does it!
What happens next?
I was then introducted to my therapist Amy and given the opportunity to pop to the loo before we went to the treatment room. Obviously I did as who doesn't check out the loo wherever they go? I tend to think that a clean and pristine ladies room speakes volumes about any venue. As you can see from the picture near the bottom of this review there is a powder room attached to the ladies with skincare, deodeorant, hair brushes and a hairdryer so you can fix yourself up after your treatment which is a brilliant idea. The ladies was pristine too everything clean and loo roll with the pointy folded tip so 10/10.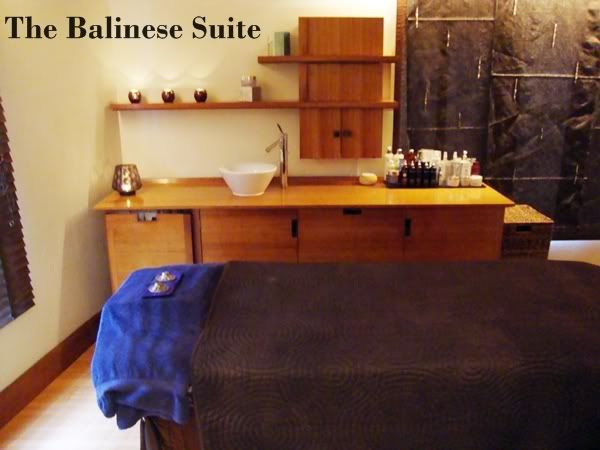 This was a lot darker whilst the treatment was happening
Which treatments did you have?
Amy and I had a chat and decided on the Visible Brilliance facial as it is good for dry and dehydrated skin and she definitely made the right choice it was amazing.
They say "Moisturisation levels of the skin are proven to increase by up to 61% and elasticity by 40% after just 1 treatment.* Specialised micro-circulatory massage techniques are combined with powerful formulations and the two-phase Amino Active Mask to help smooth, sculpt and restore skin radiance."
What were the treatments like?
After undressing and popping onto the bed I was given a quick foot massage before the facial started. My skin was cleansed and toned with and Rosepetal Cleanser and Ginseng Toner and then a papaya enzyme facial exfoliator was used. Amy used two face masks on me the Exotic Cream Mask and a really cool peel off one which I think was a spa only product. She also massaged my face, neck and chest with an oil which smelt soo good.
The peel off mask felt so satisfying when it was coming off! While the face masks were doing their stuff Amy massages my shoulders and neck, and then my arms and hands with the Frangipani Body Melt. I knew as soon as I smelled this stuff that I was going to buy it afterwards as it is gorgeous and had to be mine!
The treatment was amazing, Amy checked that I was always ok and warm enough and the neck and shoulder massage was soo good I felt so relaxed almost as if I was in a trance. I could not recommend Amy and the treatment enough, she explained everything beforehand and then went through all of the products and what they were for afterwards.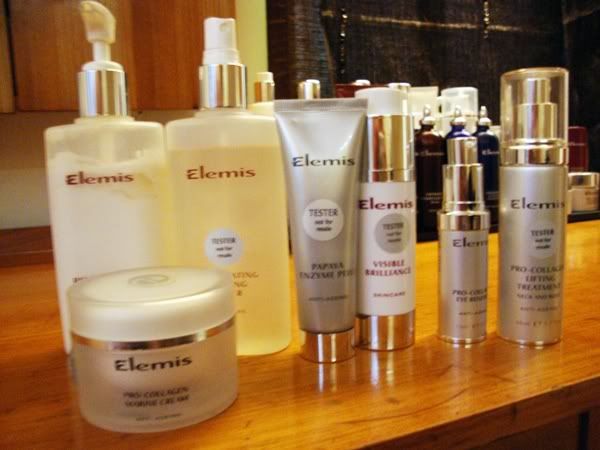 The Products Used During The Facial
How did you feel afterwards?
I felt amazing, my skin looked amazing compared to what it normally looks like, here is a picture of me with not a scrap of makeup on. And I went around Oxford St shopping like that as well, I felt so good that I didn't mind going out without any makeup on (I never do that). I felt so relaxed like I was floating away. The only problem was I didn't want to leave once it was over! I also heard someone else say the exact same thing!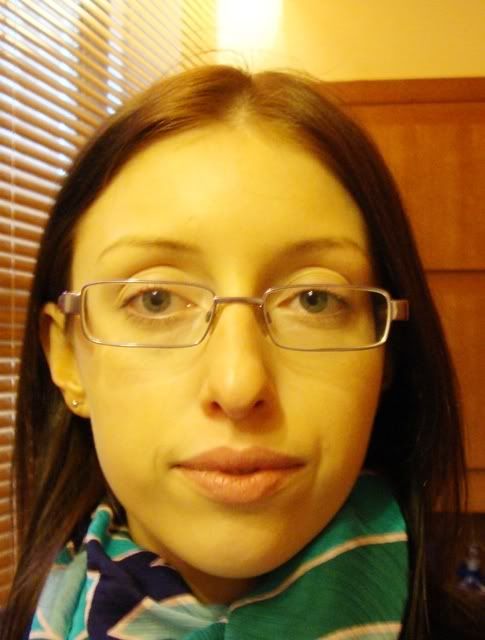 What happens afterwards?
I was given plenty of time to dress and do my hair and met Amy downstairs to go through the treatment again and she helped me pick out the products I wanted to buy and currently there is an offer whereby if you purchase two products you get 5 mini products free so she picked me 5 of the items she used for the facial so I could carry it on at home.
Was it worth it?
Now as I didn't pay for this treatment I suppose I can't be that objective. The facial lasts 1 hour and 15 minutes and would normally cost £115. My local salon's facial is Dermalogica and lasts 60 minutes (but only ever seems to last for 55) for £65 so the Elemis one costs roughly the same per minute.
The difference for me was that it wasn't just the face included in the treatment, the arms, neck, shoulders and chest were too. The surroundings of the Elemis spa are gorgeous and so relaxing and every detail was covered. At the local beauty room you are cleansed toned and exfoliated, massaged with a facial oil and then moisturised so you get a massive amount more at Elemis and all of the products used are gorgeously scented and made my skin feel baby soft and smooth.
They offer extractions if you want them but they do not do them as standard as they believe that breaking the skin is not particularly beneficial and try not to use harsh products on the facial skin such as grainy exfoliators believing that there are safer and gentler ways to go about it.
What else could you have?
There are so many different types of treatments and facials available, there are even couples treatments available and you can view them all here Day Spa Homepage
Would I Go Again?
Oh my god yes. I would have to save up for it, or ask for it as a present but I think it's worth it, I felt amazing and my skin looks and feels great 2 days later, normally my skin just goes back to normal the next day after a cheaper facial. I would most definitely 100% ask for Amy as your therapist, she was such a fantastic girl and my treatment was enhanced by her knowledge of the products and way of doing the treatment.
I loved the location as it's near the shops so convenient and it's even open on a Sunday which is great. It was the most relaxing day I have had in a very very long time.
If you are more interesting in having the latest treatment out they offer a Modern Skin Facial which got a great write up on this site bahighlife which is for people whose skin is stressed with modern living.
Fancy a Facial? You can contact them on
T: 0870 410 4210
or visit http://www.elemis.com/
Small Print – Yes the facial was free, unfortunately I did eventually have to leave the spa 🙁 I wanted to live there