MeMeMe isn't a brand that I have bought much from before. I dabbled with a few of the shimmy shimmer powders (annoying cardboard packaging) and went and swatched those Benefit knock off powders (erm more annoying cardboard packaging) and overall I just thought they were abit of a ripoff brand, trying to copy Benefit's products.
But finally they have come up with something that has impressed me. Their new Long Lasting Gloss nail varnish are 3 for 2 on their website mememe cosmetics or in Superdrug and are actually Long Lasting, easy to apply, are very opaque and creamy and come in lots of lovely colours from greiges to neons.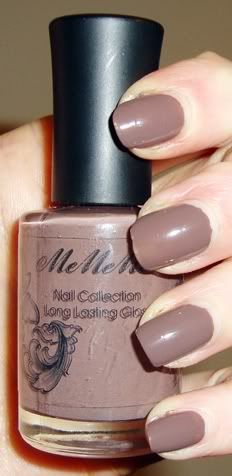 Chic- A dark brown beige cream which is opaque in two coats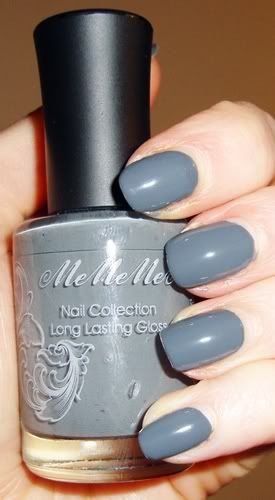 Honourable – in real life this looks slightly less blue toned and is opaque in one coat, I used two though as I always find it chips quicker if you just use one coat.
They each cost £4.50 so with the 3 for 2 offer it's great value.
The brushes are larger than usual which means that the application is seamless. The formulation is vitamin enriched and gives a long lasting
high gloss finish. The shades in the range include plenty of this seasons essential nail
colours!
Have you tried MeMeMe's new polishes? What do you think?
Also if you want the chance to win an Eyeko lipgloss and fatbalm then come on over to my Facebook page to enter http://www.facebook.com/pages/I-Heart-Cosmetics/121983491162024