Rodial Glamtox Night
From the first time I tried this I knew there was something wrong and after a few days my skin just got so flipping itchy I had to stop using it. This was around the time that I had managed to swell my lips up and with this irritating my skin as well I managed to get totally covered in dry skin all over my face. I discontinued use and gave it to a friend, who used it once and managed to snap the lid when she pushed it down lol! So all in all I am not saying this is a bad product in any way, but it didn't work for me personally and neither of us managed to use it properly or enough to review it.

Tresemme Naturals Weightless Volumising Mousse and Shampoo
I was sent the shampoo, conditioner, mousse and hairspray to try from this range and while I really enjoy using the shampoo the mousse turned my hair into a sticky blob. The consistency would be great for someone with thicker hair but mine is just way too thin. I also have trouble with the shampoo bottles being so massive but the lid being so small, I have dropped these on my toes too many times to count and I wish you could buy a pump to make things easier. I gave both of these to Matt in the end and he absolutely adores the shampoo, conditioner and mousse. I would definitely recommend these for men or those with thick hair.
Revlon Single Eyeshadows
I had a snobby moment with these. But the packaging looks and feels cheap and they come with those dodgy tiny sponge applicators. I didn't like the texture and they didn't apply well. In fact there really wasn't much I did like about these at all from the colours to the way they apply. Its such a shame as I adore many Revlon products. Just not these.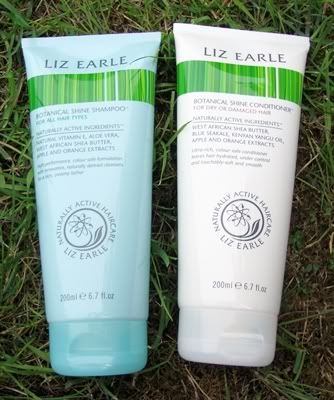 Liz Earle SLS Free Shampoo (the packaging)
Now I love this shampoo but the packaging is well and truly sh*t. The product, if left for a while (you know, like if you are trialling another product and put it away in the drawer) has a tendency to crystalize. Which would be fine, but I tried so many times to either melt the crystal bit that had jammed up the hole – running hot water over it, scraping it and failing that trying to jab it with an old earring and then a pair of scissors. I could not dislodge the blockage. So then I tried to pull the entire lid off to save time. It doesn't come off, it is firmly fixed on there. So I squished and I squashed twisted and in the end I folded it in half and started biting the stupid tube. And what happened? The bottle exploded. And considering the consistency is rather off-white and dodgy looking I looked like I had been hosting an orgy in my shower. Not good. At all! Don't worry I have managed to de-jizz-shampoo myself now.
Anything you have tried recently and just though ??? What the hell is this?!!!